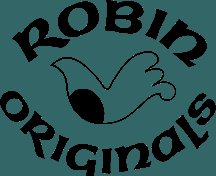 | | |
| --- | --- |
| | See Us At These Exciting Shows |

Retail 2012:
2012 CraftBoston Holiday Show
Cyclorama, Boston Center for the Arts,
539 Tremont Street, Boston
Booth 702
Friday December 07, 10AM - 7PM
Saturday December 08, 10AM - 7PM
Sunday December 09, 11AM - 5PM
http://www.societyofcrafts.org/cbholiday/holidayinfo.asp
Holiday Open House at Robin Originals Studio
with guest artists Pamela Bracci & Muffy Young
Friday & Saturday, December 14 & 15, 11am - 5pm
23 Bradford Street
Concord, MA 01742-2971
2nd floor rear
NEW ENTRANCE through FRONT DOOR
978-369-1925
Directions:
From I-495
Route 2 East to Route 62 West.
From I-95/Route 128
Route 2 West, 3.5 miles. Continue on Route 2 bearing
left at lights for 3.3 miles. Take left onto Route 62 West.
Bear Right at Fork onto Commonwealth
Avenue at 99 Restaurant. Bear Right over Railroad Tracks.
First Left turn off Commonwealth Avenue is Bradford Street:
Free Parking in front of building.
Commuter Rail to West Concord Station: 617-222-3200
MBTA Commuter Rail Fitchburg / South Acton Lines Schedules and Maps:
http://bit.ly/2uxxFU>http://bit.ly/2uxxFU
WEST CONCORD DESIGNERS OPEN STUDIOS 2O12
West Concord Designers 18th Annual Open Studio Show
featuring open studios with select award-winning artisans & guest artisans for fall and early holiday shopping
OCT TBA
Thursday, Friday, Saturday
10 AM to 6 PM, daily
learn more
Designer Trunk Show & Sample Sale at Loretta Warner Studio
Friday - Sunday Aug 10, 11, 12, 11AM - 5PM, or by appointment
3160 College Av, Berkeley, CA
510-597-1955
www.lorettawarner.com
ACC San Francisco
Booth 216
Friday Aug 3, 10AM - 6PM, Saturday Aug 4, 10AM - 6PM, Sunday Aug 5, 10AM - 5PM
Festival pavillion, Fort Mason Center, Buchanan Sy & Marina Blvd
www.craftcouncil.org/sf
Robin Originals Creative Knits Designer Trunk Show at Susan Hayes Handwovens
Saturday July 28, Sunday July 29, 10AM - 5PM
Cowgirl Creamery Building 80 Fourth St, Point Reyes Station, CA
415-663-8057
www.susanhayeshandwovens.com/events.html
craftNEWYORK
BOOTH TBA
7W New York
34th Street at Fifth Avenue (across from the Empire State Building)
NYC
Friday, March 30 from 3 pm to 8 pm
Saturday, April 1 from 10 am to 6 pm
Sunday, April 2 from 11 am to 5 pm
To benefit CERF (http://craftemergency.org/)
Admission is $15
Seniors are $12
Students and under 18 free
Information: 800-649-0279
http://www.artrider.com/CNY12.html
BALTIMORE ACC CRAFT COUNCIL SHOW
Baltimore Convention Center
One W Pratt Street, Baltimore, MD
BOOTH 406
Friday, February 24, 10am - 8pm
Saturday, February 25, 10am - 6pm
Sunday, February 26, 10am - 5pm
http://shows.craftcouncil.org/baltimore
800-836-3470
$16 per person
$30 three-day pass
SPECIAL FRIDAY EVENING ADMISSION: $5 after 5pm.
Children 12 and under free
American Craft Council members admitted free
ADVANCE TICKETS
SAVE TIME & MONEY BY PURCHASING YOUR TICKETS ONLINE! JUST CLICK BELOW, PRINT YOUR TICKETS, AND THEN PRESENT THEM AT THE DOOR!
$14 one-day pass
$25 three-day pass
CLICK HERE TO BUY!
Wholesale 2012:
BALTIMORE ACC CRAFT COUNCIL SHOW
Baltimore Convention Center
One W Pratt Street, Baltimore, MD
BOOTH 406
Wednesday, February 22, 10am - 6pm
Thursday, February 23, 10am - 6pm
http://shows.craftcouncil.org/wholesale
800-836-3470
REGISTER NOW! A $30 registration includes:
* Up to four buyer badges
* Access to informative pre-show workshops on Tuesday afternoon, Feb. 21

ATELIER DESIGNERS SPRING 2012
Suite TBA
May 2012 TBA
Doubletree Guest Suites,
Times Square
1568 Broadway
(47th Street & 7th Avenue, NYC)
(212) 719-1600
http://www.atelierdesigners.com
Open to the Trade Only
Pre-Registration: http://bit.ly/cnbJLT